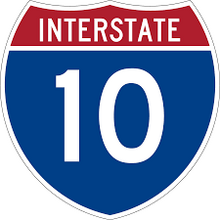 Interstate 10 is a new interstate that runs through Morseville, it took over all of Interstate 2 east of Martin, causing Interstate 10 to connect Sander City and Los Angeles.
As of November 17, 2017 at 11:00 PM, the Trois Island County section of Interstate 10 has been completed except Exit 206 (Pfalzburg Road).
Exit List
Edit
The incomplete list of exits on Interstate 10 in Morseville.
County
Location
mi
km
Exit
Destinations
Notes
Quièvrecourt
Interstate 83

- Airport

Nitolia
Pelagonia
SR 165
Not Numbered yet
East of Pelagonia
Phrygia Blvd
Under construction
Tazewell
Near Franzburg
204
TO US 90 - Franzburg
205
SR 43
I-10 WB-SR 43 NB Complete; under construction
Trois Island
Davidson Township
206
Pfalzburg Road
Under Construction
North of Martin
207
SR 710 (Mecklenburg Turnpike)
WB Exit, EB Entrance
Near Valley Township & Blue Valley
208A
Interstate 2
I-2 Eastern Terminus
Blue Valley
208B
Jupiter Avenue
Sander City
209A-B
Interstate 199
Under Construction, finished ramps open
210A-B
Interstate 99 - Forester, Applewood
210C
Old ABRio Street
WB Entrance only
210D
Interstate 10 BUS
EB Entrance, WB Exit;

Under Construction

ABRio
SR 12 (Coastal Highway)

-ABRio

Eastern Terminus