Interstate 99, or I-99 is an interstate highway that runs 1335 miles along Morseville's length. The southern terminus is in Forester, Morseville, at the southern point of the state. The terminus is the border of Canada in Snow Valley, Morseville, the most Northern City in the state. It was formerly I-1 before it was changed in 2016.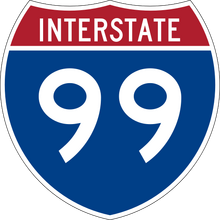 From 1956, Interstate 1 was planned and then built with a gap between Sander City and Applewood in Liguria County due to preserving of swamplands. It was completed by the late 1960s. In 2016, MVDOT renumbered the Interstate to Interstate 99.
Route Description
Edit
Interstate 99 is maintained by MVDOT (Morseville Department of Transportation).
Forester
Edit
Interstate 99 begins at US 98 at the southern coast of Forester, Morseville.
Sander City & Metro Area
Edit
Interstate 99 goes to the Sander Metro from the newly expanding southwest part of the area. Makes a interchange with SR 2/SR 3 (Jefferson-Davis Highway), the exit to Sander-Plainfield International Airport. SR 2/SR 1 splits from I-99 then goes over Storm Lake and goes through downtown. Meanwhile, Interstate 199, loops to the west of Sander City. North of Sander City, Interstate 99 goes straight to Applewood meanwhile SR 1 stays along the coast. Interstate 99 goes in a courrency with Interstate 10 then Interstate 2 into Tazewell County. Then, I-99 heads straight towards Applewood.
Sander City Route Gap
Edit
Before I-99 was transferred onto Interstate 10 into Tazewell County, it virtually had a gap between Sander City and the southernmost city in the county north of Liguria County. At one point, Liguria County declined the interstate. So Tazewell County have accepted the interstate instead.
Martin Luther King Jr. Expressway
Edit
But around Mid-November 2017, Liguria County accepts Interstate 99 passing through their county and construction began. This portion is called the Martin Luther King Jr. Expressway which is now finished in Trois Island County.
Applewood
Edit
Interstate 99 was known as the Forester-Applewood Highway. Interstate 399 loops around Applewood, while I-99 goes straight through.
Forto-Viewport
Edit
In Forto, Interstate 99 have no auxiliary interstates, but Morseville Route 1 goes in a concurrency. Morseville 1 goes off as the MacAurthur Skyway. In Viewport, Interstate 99 is not too hilly or doesn't curve too much compared to Morseville Route 55 and US 801.
Viewport-Canada
Edit
Interstate 1 goes flat all the way from Viewport to Snow Valley, which includes Jacksontown and Tuson. In Snow Valley, Interstate 99 ends at the 1334th mile at the Canadian Border.
Exit list
Edit
County
Location
mi
km
Exit
Designations
Notes
Everglades
Forester
0
0
1A
U.S. Route 98 (South Shore Road) - Miami
Exit unnamed northbound
0.1
0.16
1B
Morseville Route 1 (East Shore Drive) - Sander City
Exit 1A and 1B northbound
0.95
1.529
1C
East Second Street - Downtown
1.98
3.187
2
East Third Street (SR 43 north)
3.02
4.86
3
SR 44 (East Fifth Street)
4
6.438
4
East Sixth Street (CR 1)
5.2
8.369
5
East 8th Street
6.1
9.817
6
East 9th Street (CR 2)
7.02
11.137
7
John F. Kennedy Expressway (SR 4)
Signed as exits 7A (east) and 7B (west); Exit 7 on JFK Expressway
North Forester
8.02
12.907
8
Douglass Road
9.94
15.997
10
12.87
20.712
13
14.10
22.691
14
17.01
27.374
17
Trois Island
Sander City
109.3-109.5
175.901-176.304
109A-C
SR 2/SR 3

(Jefferson Davis Highway)

Southern end of MV 2 concurrency; Northern end of MV 3 concurrency.Exit 109A
Interstate 199

SR 1/SR 2

Exit 109B: SR 1/SR 2 (Oceanview Drive)

Exit 109C: I-199 (Sander City Western Loop)

Northern end of MV 1 & MV 2 concurrencies.

109.8-110.10
176.706-177.19
110A-C
Storm Lake Road
Exit 110A
Interstate 10, SR 4
SOUTBOUND:-Exit 110C: I-10 & SR 4 WB

-Exit 110B: I-10 EB

NORTHBOUND:

-Exit 110B: I-10

110.9
178.476
111
Sander Beach Access Road
Incomplete Interchange
111.4
179.281
112A
Interstate 199
111.5
179.442
112B
Township Line Road & US 90 (Star Tannery Road)
Liguria
Orchard
Applewood
349.56
562.56
349
20th Avenue - Applewood Metropolitan Airport
350.05
563.35
350
Interstate 40/10th Avenue
Signed as 350A (east) and 350B (west); Exit 100 on Interstate 40; Exit 350C (Northbound Only) 10th Ave.
351.02
564.91
351
Third Avenue/Main Street (CR 130)
Former Morseville State Route 30
Ad blocker interference detected!
Wikia is a free-to-use site that makes money from advertising. We have a modified experience for viewers using ad blockers

Wikia is not accessible if you've made further modifications. Remove the custom ad blocker rule(s) and the page will load as expected.