Interstate 99, or I-99 is an interstate highway that runs 1335 miles along Morseville's length. The southern terminus is in Forester, Morseville, at the southern point of the state. The terminus is the border of Canada in Snow Valley, Morseville, the most Northern City in the state. It was formerly I-1 before it was changed in 2016.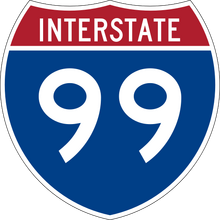 From 1956, Interstate 1 was planned and then built with a gap between Sander City and Applewood in Liguria County due to preserving of swamplands. It was completed by the late 1960s. In 2016, MVDOT renumbered the Interstate to Interstate 99. In early autumn 2017, Liguria County declines Interstate 99 and was routed into Tazewell County. However in November 2017, Martin Luther King Jr Expressway was getting constructed in northern Sander City and Liguria County after Liguria County approves I-99, filling in the gap. Martin Luther King Jr. Expressway was also once signed as SR 699 before getting signed as I-99 in Trois Island County's section.
Route Description
Edit
Interstate 99 is maintained by MVDOT (Morseville Department of Transportation).
Forester
Edit
Interstate 99 begins at US 98 at the southern coast of Forester traveling northeast until reaching I-399/US 98. I-99 then heads north around less than a mile from the coast to Sander City's southern suburbs.
Sander City & Metro Area
Edit
Interstate 99 goes to the Sander Metro from the newly expanding southwest part of the area. Makes a interchange with SR 2/SR 3 (Jefferson-Davis Highway), the exit to Sander-Plainfield International Airport. SR 2/SR 1 splits from I-99 then goes over Storm Lake and goes through downtown. Meanwhile, Interstate 199, loops to the west of Sander City. North of Sander City, Interstate 99 goes straight to Applewood meanwhile SR 1 stays along the coast. Interstate 99 goes in a courrency with Interstate 10 then Interstate 2 into Tazewell County. Then, I-99 heads straight towards Applewood.
Sander City Route Gap
Edit
Before I-99 was transferred onto Interstate 10 into Tazewell County, it virtually had a gap between Sander City and Neapolis County. At one point, Liguria County declined the interstate. So Tazewell County have accepted the interstate instead.
Martin Luther King Jr. Expressway
Edit
But around Mid-November 2017, Liguria County accepts Interstate 99 passing through their county and construction began. This portion is called the Martin Luther King Jr. Expressway which is now finished in Trois Island County.
Applewood
Edit
Interstate 99 was known as the Forester-Applewood Highway. I-99 goes into Jericho Township straight to Applewood.
Forto-Viewport
Edit
In Forto, Interstate 99 have no auxiliary interstates, but Morseville Route 1 goes in a concurrency. Morseville 1 goes off as the MacAurthur Skyway. In Viewport, Interstate 99 is not too hilly or doesn't curve too much compared to Morseville Route 55 and US 801.
Viewport-Canada
Edit
Interstate 1 goes flat all the way from Viewport to Snow Valley, which includes Jacksontown and Tuson. In Snow Valley, Interstate 99 ends at the 1335th mile at the Canadian Border.
Exit list
Edit
County
Location
mi
km
Exit
Designations
Notes
Pike
Forester
0
0
1
U.S. Route 98
Incomplete interchange; Northbound exit, southbound entrance
2.1-2.25
3.38-3.62
2A/B
Interstate 399/US 98
Interstate 399 Western Terminus
Weayaynah
Mosquito
Currituck
Thorn River
105.9-106.2
170.429-170.912
DuPont Bridge
Trois Island
Snyder Township
107.1-107.4
172.361-172.844
107
Future Interstate 97;

SR 406

Under Construction
Winchester Township
108.1-108.3
173.970-174.292
108A-B
Oceanside Parkway
Exit 108A; UNDER CONSTRUCTION
Novorossiya
108.6
174.774
SR 1 (St. Petersburg Blvd)
Exit 108B: Southern end of MV 1 concurrency. UNDER CONSTRUCTION
Sander City
109.3-109.5
175.901-176.304
109A-C
SR 2/SR 3

(Jefferson Davis Highway)

Exit 109A: Southern end of MV 2 concurrency; Northern end of MV 3 concurrency.
Interstate 199

SR 1/SR 2

Exit 109B: SR 1/SR 2 (Oceanview Drive)

Exit 109C: I-199 (Sander City Western Loop)

Northern end of MV 1 & MV 2 concurrencies.

109.8-110.10
176.706-177.19
110A-C
Storm Lake Road
Exit 110A
Interstate 10, SR 4
SOUTBOUND:-Exit 110C: I-10 & SR 4 WB

-Exit 110B: I-10 EB

NORTHBOUND:

-Exit 110B: I-10

110.9
178.476
111
Sander Beach Access Road
Incomplete Interchange
111.4
179.281
112A
Interstate 199
111.6
179.603
112B
Township Line Road & US 90 (Star Tannery Road)
Valley Township
111.8-112
179.925-180.247
112C
SR 699
Liguria
Angrinopolis
112.2
180.568
112D
SR 1
Southern end of MV 1 concurrency
Aemilianopolis
112.5
181.051
113
SR 3 & SR 1 (Plainfield Road)
Southern end of MV 3 concurrency.

Northern end of MV 1 concurrency.

Finning
Neapolitania
Nikepohoros
Orchard
Jericho Township
347.9
559.891
347
MV 11 (Zehrender Road)
Applewood
349.08
561.661
348
US 64, US 74, MV 38, MV 11, US 70 BYP. (Warwick Blvd)
349.56
562.56
349
US Hwy. 70 TO SR 27

(20th Avenue)

- Applewood Metropolitan Airport

350.05
563.35
350
Interstate 40/10th Avenue
Signed as 350A (east) and 350B (west); Exit 100 on Interstate 40; Exit 350C (Northbound Only) 10th Ave.
351.02
564.91
351
MV 27

(Front St)

Allegheny
Canadian
American River City
1334.01
2146.88
1334
MV 98

- American River City, Snow Valley

Snowdale Township
1334.58
2147.798
1335
Interstate 92 (Northern Turnpike)