Morseville had their license plates since April 1st, 2016.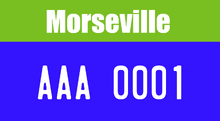 Morseville didn't have license plates until the 21st century, what so ever, Morseville had cars since 1920.
New License Plate
Edit
On April 16th 2016, Angrybirdsrio32 remade the license plates on his new main account, Angrybirdsrio4I. The License Number have a realistic font this time.
Ad blocker interference detected!
Wikia is a free-to-use site that makes money from advertising. We have a modified experience for viewers using ad blockers

Wikia is not accessible if you've made further modifications. Remove the custom ad blocker rule(s) and the page will load as expected.