Morseville had their license plates since April 1st, 2016.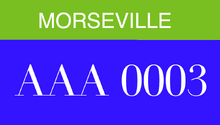 Morseville didn't have license plates until the 21st century, what so ever, Morseville had cars since 1920.
New License Plate
Edit
On April 16th 2016, Angrybirdsrio32 remade the license plates on his new main account, Angrybirdsrio4I. The License Number have a realistic font this time.