Morseville Route 2 is a state highway that runs for 25.10 miles in Morseville. It connects Sander City and other cities in Southern Morseville.
Route Description
Edit
In Trois Island County, SR 2 goes concurrent with SR 4 for around a mile. SR 2 heads south on Alexandria Blvd towards I-99, then it goes concurrent with SR 1 and I-99 and exits I-99 once reaching west of the unincorporated community of Winchester.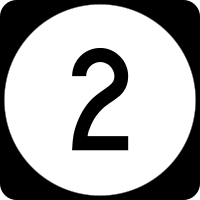 The route continues northeast ending SR 1 at Smyth Blvd in a whalebone junction.
Major Intersections
Edit
The entire route is in Southeastern Morseville. This table is incomplete.
County
Location
mi
km
Destinations
Notes
Western Terminus
Tazewell
SR 43
South Terminus for SR 43
Trois Island
Webster
SR 4
(West end of SR 4 concurrency)
Alexandria
SR 6 (Southwest Blvd)
Eastern Terminus of SR 6
SR 4 (Southwest Blvd)

- Sander City

SR 3 (Alexandria Blvd)

'Eastern end of SR 4 concurrency.'Northern end of SR 3 concurrency
Sander City
Interstate 99, SR 1, SR 3
(South end of SR 1 & SR 3 concurrencies)
Interstate 99
(Concurrent with SR 1 and Interstate 99)
SR 1 (Smyth Blvd)

- Downtown

(North end of SR 1 Concurrency)
SR 101
SR 101 North Terminus
SR 710

(Mecklenburg Turnpike) - Blue Valley

SR 710 East Terminus
SR 1 (Smyth Blvd)
Eastern Terminus
Ad blocker interference detected!
Wikia is a free-to-use site that makes money from advertising. We have a modified experience for viewers using ad blockers

Wikia is not accessible if you've made further modifications. Remove the custom ad blocker rule(s) and the page will load as expected.