US Route 98 (US 98) is an east-west route United States highway that runs 200 miles from the Florida Bay to the Newport Shoreway.
Route Description
Edit
From Florida to Western Morseville
Edit
US 98 arrives into Morseville with the Miami-Forester Bridge which spans the Florida Bay. It goes through the Morsevillian Everglades for roughly around 195 miles.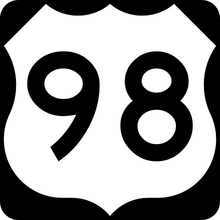 Western Morseville to Forester
Edit
Then it arrives in Forester, Morseville, It shifts north then turns east to go through Forester and go concurrent with I-399 to make it to it's eastern terminus, Newport Shoreway.